Pause Breathe Smile: The Musical
Without a doubt, one of the most exciting, inspiring, toe-tapping, fun things a Pause Breathe Smile school has ever done is make mindfulness into a musical!  
And not just any musical—one performed by the entire school community, with stars, back-up dancers, hundreds of costumes, ten distinct scenes, a live 6-piece band, a thousand people in the audience, all in the beautiful Regent Theatre on the Octagon in Dunedin.  
Ten years ago when working to design a mindfulness in schools programme at the Mental Health Foundation, Pause Breathe Smile founder, Grant Rix, had no idea Pause Breathe Smile would ever be on such a stage.  
But on 15th September 2023, that's exactly what came to life, thanks to the creative minds of Rosalind Manowitz and Susie Frame and the hard work of the Maori Hill school community.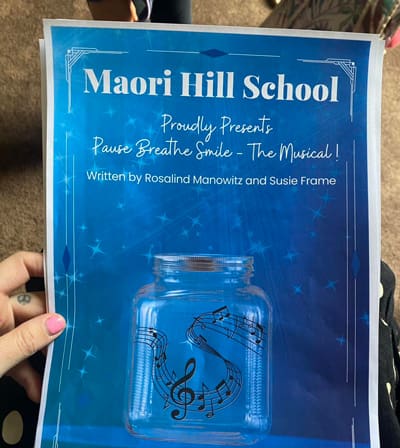 Maori Hill kaiako were trained by our incomparable Betsy Speigel in 2022, and the whole production cast and crew turned it into a magical performance that illustrated how mindfulness has helped them feel less anxious, be more kind and grateful, and feel the ways in which they are interconnected with all of life. 
Some highlights included the opening number, with the entire school's tamariki singing a welcome song recommending that everyone learn to "Pause Breathe Smile."  
Then the lead characters, comprising a family with a mum and dad, son, daughter, baby, Grannie, and the family dog, went on a roadie from Dunedin all the way up to Cape Reinga. Along the way, each main cast member had a solo about some element of their life and an aspect of mindfulness and wellbeing.  
From the daughter being anxious about performing in "Mind Jar", to the son realising that dancing helps support his hauora ("I Like to Dance"), to the mum learning that she can't pour from an empty cup ("I Know How This Car Feels"), to the dad talking frankly about the weight of masculinity ("Being a Bloke"), each song contributed to the messages embedded in Pause Breathe Smile. And there was tons of laughter, energetic dancing, and star power from these young people. 
From the songwriting, music, costume design, set pieces, props, story, and of course the amazing stars—the Maori Hill tamariki—everything was exceptionally produced and performed. Huge credit goes to Rainbow Rosalind (Rosalind Manowitz) and Suzie Frame for creating the musical, Verity Harlick and Māori Hill school kaiako and all the tamariki for pulling it off. 
---
Photo credit to Clive Copeman